By RICHARD GOLDENBERG
ALBANY–One Jewish War Veterans Post 105's deployed members carries a unique item for a Jewish veteran serving overseas —a Christian crucifix.
The Kilmer crucifix, once belonging to the poet Joyce Kilmer, is now in Africa with the 1st Battalion, 69th Infantry Regiment, part of the New York National Guard. The battalion is in the midst of a nine-month overseas deployment to Combined Joint Task Force —Horn of Africa.

New York Army National Guard Lt. Col. Shawn Tabankin, the 1st Battalion, 69th Infantry Regiment commander carries the Kilmer crucifix.
"The Kilmer cross is one of the legends of the 69th," Tabankin, a Clifton Park resident, said. "It is part of our history and part of our lineage."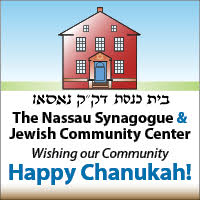 Alfred Joyce Kilmer rose to prominence as a writer and poet in the early 1900s. Kilmer enlisted in 1917 served in the 69th during its service in WWI.
On March 7, 1918, the 69th trench line positions in France were struck by German artillery, resulting in the collapse of a bunker. The attack buried 21 men and killed 19, fourteen of which remain entombed. Kilmer memorialized the event with his now famous "Rouge Bouquet." To this day the poem is read at every 69th Regiment memorial service.
On July 30, 1918, Kilmer was killed in action near the village of Seringes-et-Nesles, France during the Second Battle of the Marne. "Rouge Bouquet" was read aloud at his graveside service.
According to 69th history, Maj. William Donovan, then commander of the regiment, removed the crucifix from Kilmer after his death and carried it for the remainder of the war.
Though the Kilmer crucifix is usually tucked safely inside a display case, the crucifix accompanies the unit on deployments overseas and is worn by the commander during the St. Patrick's Day Parade and other key ceremonies.
While deployed to the Horn of Africa, Tabankin said that he made sure that wherever a 69th soldiers were stationed, the Kilmer crucifix went there as well.
"It is important for us to maintain our traditions to the greatest extent possible, even while deployed," Tabankin said. "Whenever I travel to any of the outstations, it comes with me." He planned to wear it  at the St. Patrick's Day parade in Djibouti. While Tabankin and his battalion were absent for the traditional lead of New York City's St. Patrick's Day Parade, his unit planed to mirror the celebration overseas at Camp Lemonnier, Djibouti.
Tabankin, an in-service member of the Jewish War Veterans Albany Post 105, realizes that though the demographics of the unit have changed over the years, its commitment to its traditions haven't wavered.
"The 69th Infantry was formed by Irish immigrants who were predominantly Roman Catholic," Tabankin said. "That was probably the dominant religion in the regiment for decades."
"Today, we are obviously much more diverse and reflect the population