ALBANY – Joy Davidoff has been named as Northeastern New York's winner of the 2022 Kipnis-Wilson/Friedland Award presented by The Jewish Federation of North America's Lions of Judah. Award recipients are scheduled to be recognized at the annual Lion of Judah conference scheduled for Dec. 11 to 13, in Phoenix, Ariz. 
Since 2004, the Kipnis-Wilson/Friedland Award honors women who have set a high standard for philanthropy and volunteerism and have a lifetime commitment to Jews. The Kipnis-Wilson/Friedland Award was established in recognition of Norma Kipnis-Wilson and the late Toby Friedland, co-founders of The Jewish Federation of North America's Lion of Judah program. Recipients are chosen by their communities as "women of valor."
According to organizers, The Lions of Judah are the most dynamic philanthropic Jewish women in the world asserting that members are strong women of all ages, an international sisterhood of thousands of global activists who care deeply about a Jewish future. Lions of Judah play a vital role in creating social justice, aiding the vulnerable, preserving human dignity and building Jewish identity. 

Davidoff has served in a variety of volunteer roles for the Jewish Federation for Northeastern New York (JFNENY), including serving on the executive committee, the endowment board of governors, women's philanthropy board, as well as the GAP and engagement committees. She has also served as chairwoman of Women's Philanthropy.
Along with her service to JFNENY, Davidoff has been a volunteer in the community. She has worked with the Northeastern New York Alzheimer's Association, and has served on the boards of Congregation Beth Emeth, Daughters of Sarah Nursing Center and currently serves on the board of Jewish Family Services (JFS) of Northeastern New York. Most recently Davidoff was chairwoman of JFS' annual Mensches and Mimosas fund-raising event.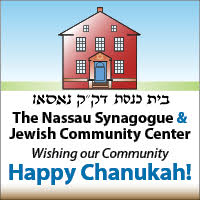 Davidoff resides in Slingerlands with her husband, James Finale. She is a native of Monticello, NY. There she got her start in Jewish communal involvement, serving her hometown as the youngest Hadassah chapter president in the country.
A Lion of Judah, Davidoff and her husband are endowed members of JFNENY's Foundation for the Future and the Life & Legacy program. 
Davidoff joins the list of past Northeastern New York award recipients including Malka Evan, Susan Farber, Evelyn Farbstein, Jane Golub, Karen Hausler, Rona Pozner, Ilene Sykes and Phyllis Wang. Davidoff resides in Slingerlands with her husband, James Finale. 
Registration and information about the December conference may be obtained at https://lionconference.org/index.php.