Photo above: Six local rabbis, from left, Rabbi Tzvi Holt, Rabbi Ben Kean, Rabbi Ami Monson, Rabbi Moshe Bomzer, Rabbi Wendy Love Anderson and Rabbi Beverly Magidson joined residents of The Massry for an exploration into the concept of joy.
By MARCY STRYKER
On a recent sunlit Tuesday morning, The Massry Residence in Albany buzzed with anticipation as 15 eager residents gathered for a Lehrhaus-style study session. Six rabbis from the Capital District Council of Rabbis joined the group, ready to delve into the theme of the day: "Joy – Seeing Light Through the Challenge of Life."

The Lehrhaus-style program, which has existed in Albany for more than four decades, provided the backdrop for this gathering. Designed as a forum to ignite dynamic conversations within and beyond the Orthodox community, it is a vehicle where individuals can explore the tapestry of Jewish ideas.
The Nov.7 sessio marked the second in a series planned for the year, drawing the wisdom of six participating rabbis: Rabbi Wendy Love Anderson (Temple Israel, Albany), Rabbi Moshe Bomzer (rabbi emeritus Congregation Beth Abraham-Jacob), Rabbi Tzvi Holt (Va'ad Hakashruth of the Capital District), Rabbi Ben Kean (Congregation Beth Abraham-Jacob), Rabbi Beverly Magidson (retired Capital Region chaplain), and Rabbi Ami Monson (Daughters of Sarah Community for Seniors).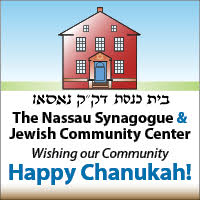 Guided by texts prepared by Rabbi Kean, each rabbi embarked on a journey to unravel the layers of meaning within. The rabbis formed a panel during the second half of the program, engaging in a discussion on the overarching concept of joy and its contemporary challenges. At the core of their deliberations was the wisdom encapsulated in the 18th-century adage, "Mitzvah Gedolah Lekiytot B'Simcha Tamid" —"It's a Great Mitzvah to be Joyous Constantly." The goal was clear: to explore how one could navigate the path to perpetual joy.
As the session unfolded, The Massry residents seemed captivated by the insights shared and the wisdom exchanged. According to organizers, The Massry residents look forward to future sessions, where more rabbis and new texts will continue enriching their journey of exploration and understanding.