The Jewish World of Albany, New York, has formed an alliance for improved sales and marketing projects, with Capital Region Independent Media (CRIM), which operates media companies, including nine newspapers in the region.
Mark Vinciguerra of Clifton Park and Warren Dews, Jr., of Hinsdale, Massachusetts, operate CRIM and NYVTmedia, whose properties include The Ravena News-Herald, The Greenville Pioneer, The Columbia Paper, Lakes Region Free Press, Whitehall Times, Washington County Free Press, Granville Sentinel, the Upstater.com, NYVTmedia.com, Community Guidebooks.com and dozens of magazines.
With systems in place for mixing print and digital advertising, CRIM is developing sales of subscriptions and advertising for The Jewish World.

Jewish World editor Laurie Clevenson, who has single-handedly managed the paper's production since the death of founders Sam S. Clevenson in 2008 and Pearl G. Clevenson in 2011, said she looks forward to increased revenue for local reporting, and making the paper's graphic presentation compelling.
James Clevenson, The Jewish World's publisher, said he is delighted to work with seasoned, accomplished professionals, who can help boost the paper with contemporary techniques. He said, "The paper, founded in 1965, could not have continued without the efforts and sacrifices of my sister, Laurie. She has filled in as we had to diminish staff — the success we have, and the pleasure we provide to readers, is due to her work."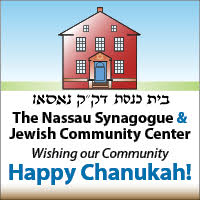 Clevenson added, "Joining a multi-news group will broaden the scope of content for our readers,  and enlarge the profit potentials for our advertising customers."
Vinciguerra and Dews, who have extensive experience developing audiences and advertising at numerous publications, said working with The Jewish World will add an attractive dimension to their readership.
Vinciguerra, whose career began at Syracuse and Pittsburgh dailies, was director of audience development at the Albany Times-Union, was publisher overseeing two dailies and five weeklies at Columbia-Greene Media, and is CEO of National Press Institute for Audience Growth. He and Dews also have ownership stakes in Wallit subscription management software.
Dews grew up in New York City, began his career at newspapers in Westchester and Asheville, North Carolina, Gannett papers in New York's Southern Tier, and worked for New England Newspapers in Pittsfield. An officer of National Press Institute for Audience Growth, he also operates Dews Management, Inc., a talent and booking agency.
Business people who would like to learn about the opportunities this partnership represents may call or email the publishers: Clevenson at (518) 309-9138, Vinciguerra at (518) 859-6353, Dews at (413) 212-0130; [email protected], [email protected], [email protected].
For a comprehensive article on CRIM's approach, from the Sept. 9, 2022, issue of Editor & Publisher, see: https://www.editorandpublisher.com/stories/beyond-the-traditional-newspaper,239594