By MIKE WAGENHEIM
(JNS) 
It's a book filled with the names of 4.8 million murder victims. The blank pages at the end, though, are haunting.
In recognition of this year's International Holocaust Remembrance Day, Yad Vashem is set to unveil on Thursday, Jan. 27, an installation at the United Nations headquarters in New York City.

Difficulty Recovering Names
This massive exhibition, called The Book of Names, includes the alphabetically arranged names of 4.8 million Holocaust victims whose identities are known to Yad Vashem. The Book of Names is 26.45 feet (8 meters) in length, 6.56 feet (2 meters) high, and 3.3 feet (one meter) wide. It concludes with empty pages in commemoration of 1.2 million Jewish victims who remain unidentified.
"We search archives all over the world and have incredibly ingenious ways to register names of victims. We know that we will never be able to recover all the names, but we make an effort to do that," Dani Dayan, Yad Vashem chairman, told JNS. "When the Nazis tried to deprive the Jews of any sense and resemblance of being human beings, and put numbers on their arms instead of names before murdering them, we thought it's our duty to give each one of them a name, a face and a history."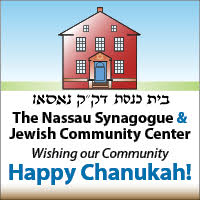 Whenever possible, The Book of Names also includes the birth dates, home towns, and circumstances and places of death of the victims.
This exhibition is part of the United Nations Outreach Programme on the Holocaust. The opening event will take place on Thursday afternoon, together with Secretary-General António Guterres, Dayan and Israeli Ambassador to the U.N. Gilad Erdan.
The exhibit will also feature a video clip highlighting the importance of remembering the names of Holocaust victims, and the reasoning behind the Names Recovery Project. An accompanying explanatory panel will include information about the Holocaust.
Third Copy?
It is actually the second copy of The Book of Names. The original is housed at the Jewish Pavilion in Auschwitz. Dayan told JNS that it is Yad Vashem's intention to produce a third copy, which will travel to exhibitions in major capitals and population centers around the world.
Dayan said that New York City Mayor Eric Adams offered to place The Book of Names in City Hall this year, but Guterres requested last year that the event be held at the U.N.
"We think it's significant that it will be inaugurated in the place that was intended to be a place of peace and of preventing another genocide. Even if the United Nations does not always fulfill that mission, we thought it's important to do it in that specific place," Dayan said.
Last year, Erdan shepherded through the U.N. General Assembly a resolution aiming to combat Holocaust denial and distortion, though several member states dabble in Holocaust denial, and anti-Semitism at the global body still runs rampant.
Humanity's Darkest Hour
"The United Nations was established to ensure that the Holocaust—humanity's darkest hour—would never be repeated," Erdan said. "Nevertheless, rampant anti-Semitism is once again on the rise and Holocaust denial is increasing in volume and intensity. Even at the U.N., a member state [Iran] openly calls to wipe the Jewish state off the map, while openly denying the horrors of the Holocaust."
Dayan said that Yad Vashem works with dozens of member states, along with governments at federal, provincial and city levels.
Educating
"But in my last meeting with Secretary-General Guterres, I offered to train U.N. personnel, both in the headquarters and under different agencies. I even made the point in suggesting that the first such agency should be UNRWA," said Dayan, referencing the U.N. agency which works closely with Palestinians and where the school textbooks are anti-Semitic and Holocaust denial and praise of the Nazis are voiced by some employees.
Dayan said his general offer received a positive response "in principle, but they are still yet to convert it to something substantial and concrete."
Outside of the U.N., there are two other international events that Yad Vashem will sponsor. An exhibition in the German Bundestag is to include 16 objects and artifacts from Yad Vashem's collection, linked to each of the 16 states that comprise the Federal Republic of Germany. Additionally, Israeli President Isaac Herzog will visit the European Parliament in Brussels for the opening of an exhibition there.
The Book of Names will be on display in the U.N. headquarters through Feb. 17 before being permanently in Yad Vashem's Museum's Complex on the Mount of Remembrance in Jerusalem. It will be open to the public there in time for Israel's Holocaust Remembrance Day, starting on the evening of April 17.
Dayan said that work will continue to try to fill those remaining pages of the book, with Yad Vashem scholars assessing that in the next few years, there will likely be some 400,000 additional identifications of Holocaust victims.
"But also those that were murdered in the shooting pits, and in the gas chambers, by collaborators in hiding places, deserve to be remembered," Dayan said. "And leaving the empty pages is a remembrance that they also existed, that they also were Jews, they also were human beings."